Where we are
Bar Opening Times:
Monday: CLOSED
Tuesday – Saturday: 11:30am – 10:00pm
Sunday: 11:30am – 8:00pm
Opening & closing hours may alter during winter, please contact The Roebuck for details.
What we offer
Monday – Closed
Tuesday to Friday: 12.00pm – 2.15pm and 5.30pm – 8.00pm
Saturday 12.00pm – 2.15pm and 5.00pm – 8.00pm
Sunday 12:00pm – 5.30pm
* Open Mondays from May Bank Holiday to end September
** Opening & closing hours may alter during winter, please contact The Roebuck for details.
Yes, with stunning views over Wharfedale from our patio
Yes, we have 2 great beers on permanently, Black sheep Best Bitter and Saltaire Blonde, along side these we have great guest ales from local Breweries.

The Roebuck Inn History
Mr. Danny Spence was born at the Roebuck Inn, in the hamlet of Newhall with Clifton, better known as 'The Spite' where his father, the late Mr. George Spence, held the first licence in 1852 and for the following 32 years. In 1883 George Spence took over the licence of the Red Lion, and the licence of the Roebuck was transferred to Mr. Daniel Spence. Two years later his father died, and Danny Spence became the licensee of the Red Lion.
The building dates back to around 1783 but things haven't always been this peaceful…
One of Mr. Danny Spence's favourite reminiscences was how the Roebuck got its more familiar name of 'The Spite.' It occurred while his father was licensee.
In 1853 neighbour and innkeeper Robert Yates applied for a licence for the 'Travellers Inn', creating a rivalry that lasted 21 years during which, 'an incident' occurred resulting in the Roebuck's unofficial name 'The Spite'.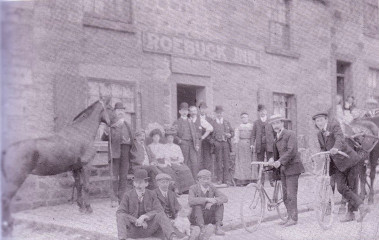 Local chap William Parkinson was a regular at the Travellers Inn but one day called in at the Roebuck first, chatting for about an hour before moving on to The Travellers. Unfortunately Mrs Yates had seen him call at the Roebuck and refused to serve him, sending him packing back up there!
William returned to The Roebuck and during conversation remarked 'there's nowt but spite and malice up here' resulting in both inns being known locally as Spite and Malice.
The name stuck, and the houses were known as the 'Spite' and 'Malice.' The licence of the Travellers' Inn was allowed to lapse many many years ago.
The Spite closed on Monday, 30th August 2010 and it was announced that the Spite Inn was on the market for £275,000 or offers (subject to VAT) nearly three months after stopping trading and only a year after re-opening. It was described by Westlake & Co., Chartered Surveyors, as being "very appealing and potentially lucrative business capable of expansion", with a "large car park and garden areas." Leeds North West MP Liberal Democrat Greg Mulholland had only declared the pub re-opened at the end of August 2009.
In early 2011, it was learned that Chris Payne from Korks Wine Bar on Bondgate had purchased it. Planning Application was applied for in March to carry out works to the property. After months of discussions with Harrogate Council, the Application was eventually approved in July 2011.
The work has now been completed and the Inn is now open for business under its original name of "The Roebuck."